MSD Veterinary Manual
---
Merck Sharp & Dohme Corp. (MSD) has a long history of providing medical information to both human and animal health care professionals. For more than 60 years, the MSD Veterinary Manual (MVM) has provided veterinarians and other animal health professionals with concise and authoritative information on diseases and management of food-producing, companion, laboratory, and exotic animals. The new 11th edition in print and the expanded content on this site carry on this proud tradition. The contents of the MVM are also available as an app for handheld devices, providing enhanced capability to quickly access needed information.
Although the contents of the book have expanded with each edition, the MVM remains true to its original objective: a concise, easy-to-use, comprehensive reference that covers the diversity of species and animal diseases worldwide. Coverage is straightforward and practical, with explicit recommendations given for treatment whenever possible. The succinct discussions also serve to give readers a strong foundation for seeking out and understanding more detailed information available elsewhere.
The MVM covers all the basics, but it is also often relied on for areas not commonly encountered in the daily routine of most animal health professionals. This is no more evident than in the growing role of veterinarians in today's environment, in which general practitioners and specialists alike must practice awareness and vigilance in recognizing the impact of the international movement of animals, maintaining a safe food supply, and minimizing the spread of infectious animal disease and the threat of zoonoses.
The MVM also remains committed to engaging and serving the educational needs of users in various ways through multiple social media sites, working relationships with students, partnership activity to increase use and availability of our content, and exploring new avenues to offer additional multimedia and other tools.
Click here to be taken directly to the online version of the MSD Veterinary Manual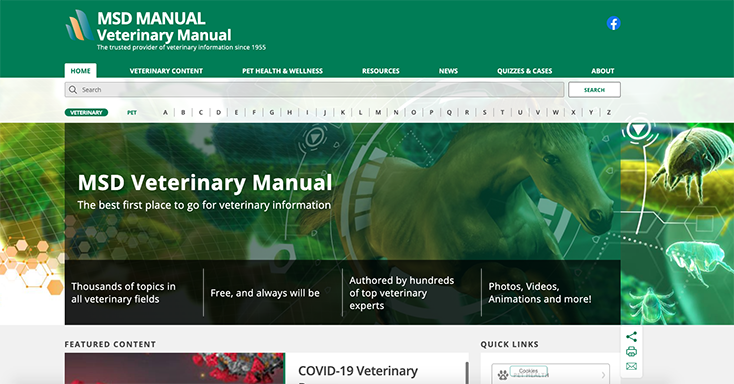 MSD Veterinary Manual content available free in an app
Did you know most of the content of the MSD Veterinary Manual (MVM) website is available on a free app? With the app downloaded to your mobile device (for iOS and Android), most content can be accessed offline, available to you anytime anywhere.
Get the answers you need from the source you trust. Content includes:
Thousands of topics written and updated regularly by more than 400 veterinary experts
Photos, illustrations, and video
Clinical calculators
Numerous reference guides and hundreds of useful tables
Download for iOS or Android and use the MVM on the go!